C3 and L7 models are compatible with the latest iOS and Android smartphones and tablets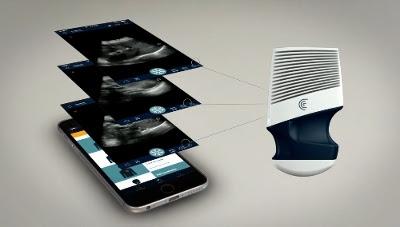 December 14, 2016 — Clarius Mobile Health announced the U.S. Food and Drug Administration (FDA) has cleared the C3 and L7 Clarius Wireless Ultrasound Scanners, which are compatible with the latest iOS and Android smartphones and tablets.
"Clarius is the future of patient care. The image quality is amazing for any scanner, much less one that fits in my pocket," said Steven Steinhubl, M.D., director of digital medicine at the Scripps Translational Science Institute. "The ability to wirelessly connect it to any Apple or Android device means that anyone on my team can use it with whatever they already carry around in their pocket."
Introduced in March 2016, Clarius Ultrasound Scanners are intended for clinicians to conduct quick scans and to guide short procedures at the bedside. The Clarius C3 multipurpose ultrasound scanner is designed to image the abdomen and lungs; it also incorporates a virtual phased array for quick scans of the heart. The Clarius L7 is ideal for guiding procedures and imaging superficial structures.
Unlike other app-based ultrasound systems that draw power from a connected smart device, Clarius Scanners are powered by a rechargeable battery, which is easily exchanged when running low. Two batteries and a charger are delivered with each scanner. Built with a magnesium case, the devices are designed to withstand challenging environments and are water submersible for easy cleaning and disinfection.
"Having used Clarius in an educational setting, I am excited about its potential to put ultrasound into the hands of more clinicians," said Thomas Cook, M.D., of 3rd Rock Ultrasound. "Besides being portable and easy to use, I'm very impressed by the image quality produced by such a compact ultrasound machine."
As a direct-to-professionals e-commerce company, Clarius aims to make ultrasound systems affordable and easily accessible to medical professionals. To facilitate online sales, the company offers customers the ability to return the product after a one-week trial period for a small handling fee. The company's e-commerce portal is supported by a telesales team. Clarius Scanners are also available from a network of sales partners across the country.
For more information: www.clarius.me